The Academic Film Archive has been saving rare and endangered 16mm films for over a decade, often exhibiting them through cine16, a San Jose micro-cinema.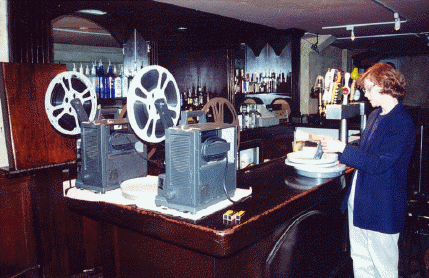 — Bell & Howell projector
The "academic" in their title is not a stand-in for boring – these 16mm films are often treasured recordings of American culture, or experimental surrealist films, or groundbreaking documentaries. As AFA says, "Smaller and less costly than the 35mm used in movie theatres, yet possessing good picture resolution, 16mm allowed films to be shown on less costly portable projectors, thereby attracting audiences away from theatres themselves … . Introduced in 1923, 16mm film brought moving images to schools, small-town discussion groups, and library associations for the first time."
Like any not-for-profit, short of funds, AFA is running a campaign to help them digitize and save their films, making them publicly available through the Internet Archive.
Here are the steps that AFA outlines:
1) Please select any copyright-free 16mm films from our chronological shows pages, or easier yet, from our pre-defined eligibility list. You get to choose, from ethnographic, arts, sciences and other subject genres. We'll even help, if you need a suggestion. Then email us and we'll tell you if the film is still eligible. If so, we'll ship the film to our digitizer, who will convert the film to MPEG2, and upload it to the Internet Archive.

2) You will receive your own DVD, and your name listed as the sponsor of the film. We are a 501(c)3 tax-exempt organization, so your donation will be deductible, minus the unit cost of the DVD. As always, you'll receive a tax letter from us.

3) To sponsor your film, please make a donation, based on the length of the film. Costs associated with this program are directly related to its length, and just about all of it goes to the digitizing service, which is doing this for a special low cost, because these films will be free for the public to view.
For a 45 minutes of film, the AFA is requesting only $244. (Many of these films are shorter than traditional motion picture movies). => Go here to help the Film Archive!
If you are interested in freely available film, also check out the tremendous collection that was by painstakingly gathered by Rick Prelinger; this collection was acquired by the Library of Congress. Many of the Prelinger Archive films can be found at the Internet Archive.